Customer-Focused, German-Engineered,
U.S. – Based.
At CFM-ITBONA, our most productive relationships begin when engineers present us with their testing challenges. Our customer's goals range from performing fatigue testing and evaluating the performance of a part or system, to securing test fixtures to base plates or angle plates. We offer custom test-fixture design, manufacturing and installation, including T-slot plates, seismic mass design and vibration isolation. Our customers also benefit from our new manufacturing facility in Minneapolis – German Quality with US location.

Consult * Design * Build * Install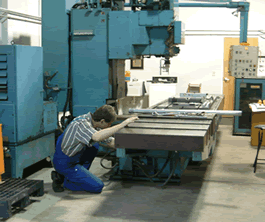 ENGINEERING AND MANUFACTURING:
Our engineering and manufacturing capabilities enable us to provide you with custom manufactured parts, assemblies or systems. Our background is the manufacturing as well as the automotive testing industry. From a simple T-slot base plate to a complex steering test fixture, we have the expertise to understand and serve your specific testing or manufacturing needs.
SERVICE AND INSTALLATION
We offer the installation as well as service for all our products. We install base plates including the grouting. Lifting and transport devices, grout pumps and all kinds of measurement equipment such as Laser alignment systems can be provided to reach perfect installations with best possible accuracies.